Nanoceramic coatings work on a lot of surfaces. Clear coatings – CHECK! Headlights – CHECK! Exhaust headers and turbo parts – WTF?
Believe it or not, a growing trend in the performance aftermarket industry is the use of ceramic spray coatings (a different formulation from Armor Shield IX) on the custom exhaust and fuel-system components.
This is what we'll talk about in today's AvalonKing blog. In the information below, we'll explain why you should consider using a ceramic coat spray to protect your aftermarket exhaust and turbo parts. We'll explain the difference between these high-temperature ceramic sprays and our DIY nano-coating.
So – let's get cracking.
What's the Difference Between DIY Nano Coatings and a Ceramic Coating Spray?
There is often some confusion about the difference between high-temperature ceramic coating sprays and our DIY Nano ceramic coating Armor Shield IX. First and foremost, they are designed to accomplish similar goals – to protect the surface from exposure of contaminants or elements that can cause damage.
The DIY Nano ceramic coating uses nanotechnology to penetrate microscopic imperfections found on clear coatings and other porous surfaces. While they can handle high and low temperatures, this type of product is best used on materials that don't eclipse 440-degrees Fahrenheit.
High-temperature ceramic coating is often referred to as an exhaust coating, header coating or high heat coating. It does not use nanotechnology and is designed to bond on top of surfaces. High-temperature ceramic coatings are designed to prevent corrosion of items that are prone to high heat. In fact, they can withstand constant exposure to temperatures close to 1600 degrees F.
When applied correctly, a spray high-temperature coating will be 2 to 4 millimeters thick, with produce a hard finish that is resistant to chipping and rust – or corrosion. Nanoceramic coatings are microscopic in thickness, and likewise, make the protected surface resistant to similar items.
These types of ceramic spray coatings are also available in multiple colors, from flat black to bright red. You can opt for high-gloss or matte finishes, including satin metallic.
What Do You Use High-Temperature Ceramic Coatings?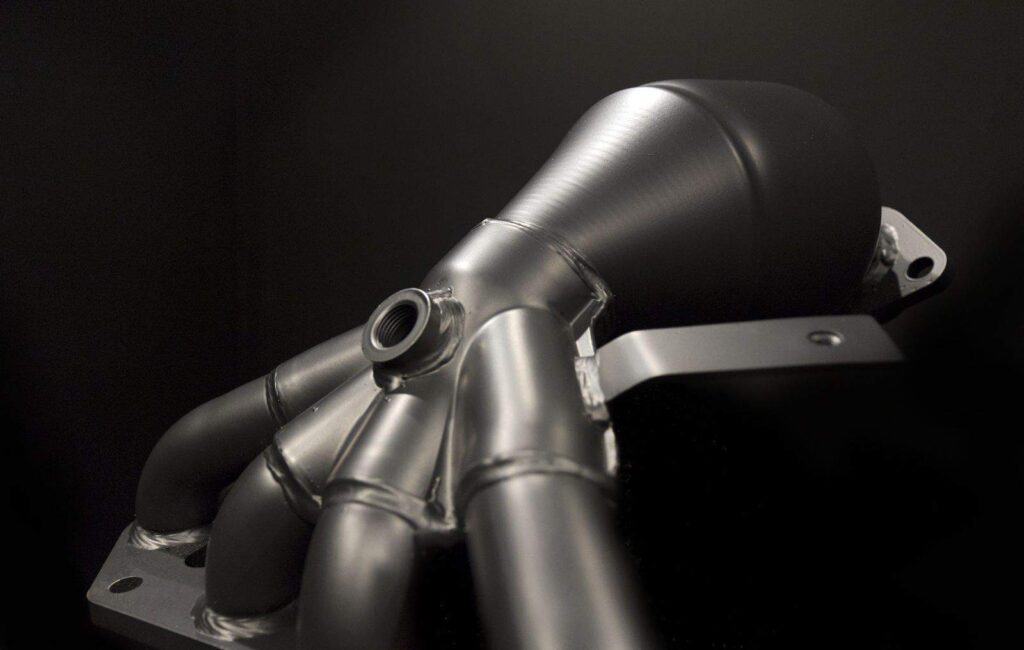 Typically, a consumer will use a high-temperature ceramic coating on high performance, aftermarket parts. It can be applied to aluminum, stainless steel, carbon steel, chrome, and cast iron. It's also exceptional on pistons, headers, turbo intakes, housings, brackets, and exhaust manifolds, headers, and pipes.
What are the Advantages of Using High-Temperature Ceramic Coatings?
Most car enthusiasts invest thousands of dollars in upgrading their fuel and exhaust systems for optimal performance. If they are smart, they'll protect those investments with a spray high-temperature ceramic coating, simply due to the multiple advantages they produce.
Protection
The first reason to ceramic coat your exhaust and fuel system components is to protect them from exposure to high heat, oxidants, corrosion, and rusting. Headers and exhaust system parts specifically are exposed to debris and contaminants from below the vehicle. This can include road grime, salts, and other deicing chemicals, dirt, and debris and more.
For those living near oceans or saltwater lakes, the exhaust pipes (specifically those under the vehicle) can quickly become corroded, slowly rust, and eventually crack.
Applying a high-temperature ceramic coating protects your undercarriage exhaust parts from oil and gas and other chemicals that lead to corrosion of metals. Some ceramic coating products can even help reduce damage from rocks, sand, and dirt, and even tree branches.
It also helps to reduce damage caused by extreme heat. Most exhaust system components are exposed to temperatures that can eclipse 1,000 degrees in some cases. The coatings are strong enough to protect up to 1,300 or even 1,600 degrees – leaving you plenty of room for those nitrous-infused burn sessions.
Improves Thermal Cycling
For those with turbo diesel, you've probably been introduced to the term thermal cycling. If you haven't, here is basically what happens. As parts get hot (like glowing red hot as they do inside a turbo's hosing), then rapidly cool – the metals go through a thermal cycle. Over time, this can cause the metals to become brittle, leading to damaging like cracking, corrosion, and complete failure.
Applying a high-temperature ceramic coating spray on turbo parts (specifically those powered by diesel fuel) helps to maintain a lower surface temperature of metals. This reduces thermal cycling, which extends the lifespan of turbo housings and other parts that go through rapid temperature cycling.
Improves the Luster and Appearance
If you've chrome headers in the past, you've likely noticed that discoloring on bends. This is due to excessive heat focused on those twists and turns of metal, and chrome's inability to handle extreme heats. Applying a high-temperature ceramic coating not only improves the heat absorption but also improves the appearance.
It reduces flaking, bluing, and discoloring that is associated with chrome, powder coatings, and other temperature-sensitive materials. Additionally, there are multiple color and style options including polished aluminum coatings (that look very close to chrome), blackout, in glass or matte finish, and much more.
Increase Performance
One thing I find baffling is when a car enthusiast will spend thousands of dollars improving the fuel flow of their engine, without making corresponding changes to their exhaust system. You see – an engine is a living and breathing unit – that needs to inhale (the introduction of fuel and air to burn) and exhale (expending exhaust gases).
When the exhaust system does not match the improvements made up top, you can lose performance. To counteract this – smart car owners upgrade their exhaust systems, from the manifold to the muffler. Applying a high-temperature ceramic coating can help improve the efficient flow of exhaust through your system, allowing your engine to burn more fuel, and thus – making more horsepower.
A ceramic coating can increase the speed of the exhaust gas flow. Likewise, it can help reduce thermal tumbling, which happens when hot spots develop on bare metal (like those bends of tubing on exhaust pipes).
When the headers and the manifold are coated, heat is disbursed across the entire metal material. It can also eliminate backpressure, which improves the flow of exhaust and thus – increase in horsepower.
What Type of High-Temperature Ceramic Coatings are Available?
There are several methods, brands, and types of high-temperature ceramic coatings. While there are some DIY solutions, the best results will come from professional ceramic coating applications. The application is a multiple-step process that involves multiple coats, treatment, and curing.
Consumers can opt for a few different grades of professional ceramic coating application including these listed below.
Low Heat – Up to 1,300 Degrees
This is the method and type of coating used in restoration projects. Most car owners will use this type of ceramic coating on rear end housings, valve covers, and other low heat producing engine parts. The low heat variety can handle up to 1,300 degrees F and is offered in bright ceramic colors or polished aluminum.
Medium Heat – Up to 1,600 Degrees
For those looking to step up the performance game, the medium heat ceramic coating is usually the way to go. This is used on headers, turbo parts, or naturally aspirated engines and motorcycle parts. Many use this coating for exhaust components, but if you have a high-winding, lean burning engine combination, you might want to elevate the coating to the maximum protection.
High Heat – Up to 2,000 Degrees
This is the ultimate heat protection ceramic coating. It's perfect for race vehicles, diesel trucks, import racers (such as drifting or road course racing) or drag racing applications (specially zoomie-style headers). This type of heating is also used in internal combustion parts, such as pistons. Some people even use this on the clutch bell housing on racing vehicles.
Can You DIY Apply High-Temperature Ceramic Coatings?
Certainly. There are several good DIY ceramic coating sprays (sold in cans) that are simple to apply. The prep work is really what will take the most time.
This video will show how a DIYer sprayed VHT ceramic coating to their turbo housing on their Mazda. The main item to remember is to follow the directions of each manufacturer – as the will vary.
Can You Use Armor Shield IX on Exhaust or Turbo Housings?
In short – no; it's not recommended for this type of application. While we are quite confident in the application of our DIY nano-ceramic coating on several surfaces, exhaust and turbo housings are ones that shouldn't use a nano-coating.
This is the purpose of this article actually – as we've received a lot of questions asking if our DIY nano-ceramic coating is the same as high-temperature ceramic coating sprays.
As I hope I've clarified above – they are two separate products. In fact, they're not even in the same ballpark. If you're looking to protect your air intake, using Armor Shield IX is a great option.
It's also great for valve covers, battery boxes, engine shrouds, and other plastic engine covers. If your engine components are metallic and collect a lot of heat, it's best to use the specific high-temperature ceramic coating spray.
If you enjoyed this article, then you'll love AvalonKing's automotive care products for Do-It-Yourselfers. We create "No B.S. products" for an affordable price. And the best part, we treat our customers like family, so if you have any questions or just looking to chat about cars, we're only an email or call away. Check out our homepage here.